Welcome to the Alli Fitz wiki!
The wiki about the singer, songwriter, and comedian Alli Fitz.
Alli Fitz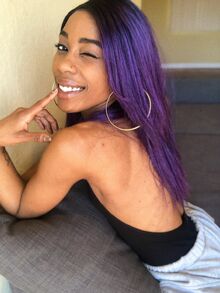 Alexandria Inez Fitzpatrick (born September 10th, 1993), who is best known as Alli Fitz or AlliCattt, is an American singer, songwriter, YouTuber, and comedian. Alli began posting videos for fun on YouTube in 2008. These videos consisted of her covering popular songs in her bedroom, including songs by Demi Lovato, Taylor Swift, Ed Sheeran, and Alicia Keys. In 2013, she opened her Vine account, and after posting several videos, she became famousm gaining over five million followers and being of the most popular female viners. In 2014, she created a new YouTube channel, and ever since then, she's been posting videos on it. She started gaining more popularity in March of 2018, when she made a series of the game Episode's story Troublemaker, the first episode being her most popular video, with over one million views. Besides being a comedian, Alli is also a singer, some of her most popular singles being "Fill The Void", "Tragic", "Secret" and "Only For The Night". She also released an EP (extended play) in 2020, Mental Notes. Read more about Alli here.
Discography
EPs
Singles











Featured video
Affiliates
About us
---
Hello there! The Alli Fitz wiki was founded on July 17th, 2018. Any contributions on making this wiki a bigger and better place is highly appreciated! Our goal is to be the most reliable source of information of everything related to Alli Fitz. This is a 100% non-profit online encyclopedia run by the fans, for the fans!
Before editing anything, please read our rules and regulations! And don't hesitate to contact a staff member if help is needed!
---
Twitter feed
---
---
Stream Alli
---
---
Poll
---