"Fill The Void!"
This article is a stub. You can help the Alli Fitz Wiki by adding more information to it!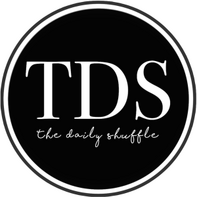 The Daily Shuffle is a website that contains celebrity news and interviews. On November 9th, 2017, they interviewed Alli Fitz
Interview
Let's talk about your newest release, "Disease" – how did that song come about for you? What's the story behind it?
The inspiration behind my song "Disease" was a relationship I was in a couple years ago. It was an emotional rollercoaster and toxic for me, like a disease.

What inspired the music video concept?
I wanted the music video to follow the lyrics to the song as much as it could with a lot of visuals, so I would say the lyrics to the song inspired the video concept in a very literal sense!

Are there any memorable moments from filming the video that you can share with us?
Yes! It didn't actually make it to the music video, but we had a scene where my dancers had to continually jump into this fluffy bed with different poses. It was hilarious watching them jump into the bed and it definitely entertained me for a while haha.

Musically, what's next for you? What should fans be expecting from you for the rest of the year?
I'm currently working on a full album so be on the lookout for it!

Growing up, which artists do you remember loving? Do they still influence your sound today?
I remember loving Stacie Orrico and singing all her songs in my basement with my sister. YES she still does influence my sound today.

What's the songwriting process usually like for you?
Most importantly, I have to be wearing comfortable clothes. Haha. Then I usually just go into a room with doors that I can close to shut everything out. I have to be in the zone to write from the heart.

Is there a song that you absolutely love that you wish you wrote?
Yes! I wish I wrote "New Rules" by Dua Lipa because It's a BOP. It's so clever and relatable.

When it comes to stage presence, which artists are you inspired by?
I'm definitely inspired by Demi Lovato when it comes to stage presence. She's always dancing around the stage and interacting with her fans while singing, and I love it.

What do you hope fans take away from you and your music?
I want to make music to let my fans know that it's okay to love yourself, and it's okay to leave a relationship or friendship that seems toxic to them.

What's the best way for fans to get your attention on social media?
If they share their favorite songs at the moment with me. I love talking about new music.

How important is to you to use your platform for good?
It is SO important. Since I have so many people that read my tweets, it's important for me to use that platform to help and inspire others.

What's been the highlight of your year so far?
The highlight of my year has been releasing TWO original songs (With more to come in the future!)

What's something you're still hoping to cross off your list this year?
To put out one more song and music video before the year ends.

How would you describe your personal style? Favorite stores to shop at?
I would say my style is trendy with a little bit of edginess to it. I looooove Fashion Nova, and Forever 21. Those are my "go to" places.

If you could raid any celebrity's closet, whose would it be?
Zara Larsson's or Dua Lipa's. We literally have the same style.

Which artist(s) have you had on repeat lately?
Definitely Demi Lovato's new album along with Dua Lipa's album too! They're both so good.

Any special message for your fans?
YES! I love you guys so much and I can't wait to continue this journey with y'all!
Community content is available under
CC-BY-SA
unless otherwise noted.